"Doing It Right The First Time" is the essence of the GKD Quality Policy. GKD Industries has had a formal Quality Policy certified under ISO standards since 1997. We are currently certified in accordance with ISO 9001:2015 in relation to:
"Products and machining services focused on well stimulation, wireline and flow control equipment for the oil and gas industry"
Our Quality Registrar is PriceWaterhouseCoopers in Canada.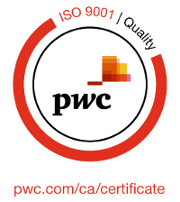 The GKD quality system begins with an agreed contract with the customer and carries through to delivery and acceptance of our product by the customer. At every stage, the family of GKD employees are involved either directly in the manufacture, selling and distribution of the product, or in support of these business processes.
Our fully staffed and equipped Quality Assurance department assists throughout the organization in the following ways:
First-off, In-process and Final inspections

GD&T (Geometric Dimensioning and Tolerancing) capabilities with CNC CMM and FARO Arm

Non-destructive Testing

Hardness testing

Hydrostatic Pressure Testing

Magnetic Particle Inspection

Surface Finish Testing

Ultrasonic Thickness Testing

Product history traceability by means of unique serial numbers including manufacturing date, dimensional inspection results, test results, material certification details, and other relevant information — stored electronically and by hard copy for minimum of 7 years

Monitoring process non-conformances and seek opportunities for improvement